ATMI
2, avenue des Bosquets
Z.A. de l'Observatoire
78180 Montigny le Bretonneux
FRANCE

: +33(0)1 6137 3560
: +33(0)1 6137 3569
: sales@atmi.fr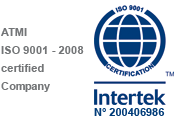 SOLIBA standard tilt level switch
SOLIBA

Description

The SOLIBA is a tilt level switch for bulk solids located in non-hazardous areas. It has been designed to provide high level measurement in silos or any other type of storage containers. Its operation is very simple: Vertically suspended at the desired high level point, the SOLIBA will tilt as the grain reaches the unit. To secure your facilities at a minimum cost, the installation of a SOLIBA high level mechanical tilt level switch is strongly recommended, even if your facilities are already equipped with other types of equipment such as: rotating paddles, vibrating forks, radars, capacitive and ultrasonic sensors, etc.

SOLIBA tilt level switch data sheet

(PDF 459Ko)


SOLIBA wiring diagram

(PDF 3302Ko)



Installation recommendations
The SOLIBA tilt level switch must be installed at the opposite side of the arrival of grain and at a certain distance from the silo walls. This to ensure an optimal tilting operation.
For certain applications it is recommended to use an external ballast on the electrical cable. See external ballasts for SOLIBA tilt level switches.
A metal protection is available in option for any application involving physical shocks on the device or for high level detection of excessive-height bulk solids in all types of belt conveyors. See metal case for SOLIBA.
Advantages
Economical device, easy to install, easy to use
Robust construction, no risk of burial or clogging, even in low-density grains such as soy, sunflower, oats, and barley
Enhanced resistance to dust: IP 6X. The operation of the SOLIBA tilt level switch is not affected even when the device is completely covered with dust !
Energy saving: The SOLIBA tilt level switch only operates when the high level is reached, unlike other types of level measurement devices that operate permanently
Ecological tilt level switch (no mercury, no lead)
Applications
Grains and cereals: oats, sunflower, barley, soybean, rice, wheat, corn, sunflower, etc.
Animal food: for pets, for birds and poultry, for cattle, etc.
Powders: flou, sugar, cement, etc.
Other bulk solids: granules, stones, minerals, sawdust, pellets, etc.
High level measurement of silos, bins, hoppers, bulk storage zones, etc.
High level alarm (sound our light)
Technical characteristics
Operation modeBy tilting
Switching angle+/- 10º from the vertical point
Cut-out power20 (8) A (20A resistive – 8A inductive)
Cable typeNeoprene
Remark: This device is not suitable for hazardous environments. Please select our SOLIBA EX ATEX certified tilt level swtiches.