ATMI
2, avenue des Bosquets
Z.A. de l'Observatoire
78180 Montigny le Bretonneux
FRANCE

: +33(0)1 6137 3560
: +33(0)1 6137 3569
: sales@atmi.fr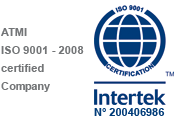 Level switch for pump control - AT 120
Description

The AT 120 is a float level switch designed for intensive pump control. It can be connected directly to pumps up to 1.5 HP or through a relay if working with high power pumps. Thanks to its wide switching angle of 120º, the AT 120 float switch protects the pump's engine and the electrical panels from jerking. This feature is highly appreciated in very agitated and turbulent liquids.

Advantages

120º switching angle that protects the pump's engine from jerking

No maintenance needed, thanks to its biconical shape that avoids any clogging

Easy to install, easy to use

Ecological float switch (no mercury, no lead)

Applications

Clear, clean liquids, rain water, certain types of wastewater

Slightly aggressive liquids (oil, mud, paint, etc.) and more aggressive liquids if equipped with a HR HY cable

Emptying / Filling function

Overflow or dry-running protection

High / low level alarm
TECHNICAL DOCUMENTATION DOWNLOAD:
Remarks
The AT 120

float switch

is available in 3 versions : (1) Emptying / Filling (2) Emptying + ground wire (3) "Special" emptying mode with

multifunction plug

for the automation of manual pumps.

This model is available with a HR HY (High Resistance) press-vulcanised housing for applications in aggressive liquids (acids, solvents, hydrocarbons, etc .) See

AT 120 HR HY

.
TECHNICAL CHARACTERISTICS

Operation mode

Omnidirectionnal

Allowed fluid density

0,70 à 1,15

Maximum pressure

3.5 bars

Allowed temperature

85°C

Protection index
IP 68
Power supply

250 VAC/VDC - 50/60 Hz

Cut-out power

20 (8) A (20 A résistive – 8 A inductive)

Housing material

Copolymer polypropylene

Cable 3 cond. 1 mm²

Neoprene or HR HY

Weight without cable

195 g

Cable weight

Neoprene 115 g/m - HR HY 110g/m

Ballast

Loaded resin 250 g - cliptable 275g

Standard cable lenght (serie)

3, 5, 10,15 et 20 m