ATMI
2, avenue des Bosquets
Z.A. de l'Observatoire
78180 Montigny le Bretonneux
FRANCE

: +33(0)1 6137 3560
: +33(0)1 6137 3569
: sales@atmi.fr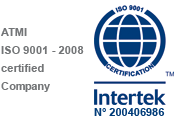 Float level regulator - AQUA MEDIUM EP, ACS certified
Description

The AQUA MEDIUM EP, ACS certified is a robust level regulator with internal ballast constructed with special components for use in drinking water applications. As the liquid level reaches the regulator, the mechanical switch inside will tilt, thus closing or opening a circuit connected to an electrical panel. The AQUA MEDIUM EP ensures a very precise level measurement thanks to its +/-10°switching angle. Moreover, it is the ideal level regulator for limited space applications.

Advantages

Robust construction with internal ballast

Easy to install, easy to use

Ecological float switch (no mercury, no lead)

Applications

Drinking water for human consumption

Level control of multiple pumps

Emptying / Filling function

Overflow or dry-running protection

High /

low

level

alarm
TECHNICAL DOCUMENTATION DOWNLOAD :
AQUA MEDIUM EP, ACS certified
TECHNICAL CHARACTERISTICS

Operation mode

Omnidirectionnal

Allowed fluid density

0,95 à 1,05

Maximum pressure

3.5 bars

Allowed temperature

85°C

Protection index

IP 68

Power supply

12, 24, 48 VAC/VDC and 250 VAC 50/60 Hz

Cut-out power

16 (6) A (16 A résistive – 6 A inductive)

Housing material

Polypropylene special ACS certified

Cable 3 cond. 1 mm²

EPDM special ACS certified

Weight without cable

400 g

Cable weight

EPDM 105 g/m

Ballast

Internal ballast

Standard cable lenght (serie)

5, 6, 10,13, 15, 20 et 30 m
Remarks
WATCH OUT ! A Sanitary Conformity Certificate is required in many countries for any device in contact with drinking water meant for human consumption. In France the ACS Certificate is mandatory since 2006. To know more about the ACS Certificate, please see our Drinking Water (ACS) section.
It is highly recommended to use cable hangers with our float level switches.
The AQUA MEDIUM EP level regulator is not suitable for agitated liquids. Please choose our float switch model: ATS 165 EP, ACS certified.
For pump control of several levels with several pumps in calm liquid with a float level switch equipped with a stainless steel adjustable ballast, choose the SOBA EP, ACS certified.