ATMI
2, avenue des Bosquets
Z.A. de l'Observatoire
78180 Montigny le Bretonneux
FRANCE

: +33(0)1 6137 3560
: +33(0)1 6137 3569
: sales@atmi.fr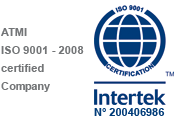 Small float switch - TUBA 1"
Description

The TUBA 1" float level switch is a small diameter tubular float that has been designed to fit tanks and cisterns having restriced access. Its small 1" diameter allows it to pass through the narrow openings usually found on the side walls of tanks. As the liquid level reaches the float, the mechanical switch inside will tilt, thus closing or opening a circuit connected to an electrical panel. Thanks to its +/-20º switching angle, the TUBA float level switch ensures a very precise level measurement..

Advantages

Easy to install, easy to use

Installation possible up to a water depth of 55 meters

Ecological float switch (no mercury, no lead)

Applications

Clear, clean liquids, rain water

Slightly aggressive liquids: oils, mud, fuel, paint, etc.

Level control of multiple pumps

Emptying / Filling function

Overflow or dry-running protection

High / low level alarm
TECHNICAL DOCUMENTATION DOWNLOAD :
TECHNICAL CHARACTERISTICS

Operation mode

Omnidirectionnal

Allowed fluid density

0,75 à 1,50

Maximum pressure

5.5 bars

Allowed temperature

85°C

Protection index
IP 68
Power supply

250 VAC - 50/60 Hz

Cut-out power

12 (6) A (12 A résistive – 6 A inductive)

Housing material

Copolymer polypropylene

Cable 3 cond. 1 mm²

Neoprene or HRHY

Weight without cable

60 g

Cable weight

Neoprene 66 g/m or HRHY 110 g/m

Ballast

Loaded resin 175 g

Standard cable lenght (serie)

2, 3, 5, 10, 15, 20 et 30 m
Remarks
The TUBA 1'' float level switch can be installed in 3 ways : fixed to a cane, vertically suspended on the cable with external ballasts, or horizontally mounted on the tank sides with a gland.

This model is also available in a slightly bigger diameter. See TUBA 1'' 1/4.