ATMI
2, avenue des Bosquets
Z.A. de l'Observatoire
78180 Montigny le Bretonneux
FRANCE

: +33(0)1 6137 3560
: +33(0)1 6137 3569
: sales@atmi.fr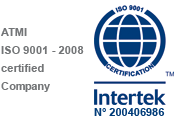 Certificates & Quality Management
ISO 9001-2008 Certificate
ATMI is an ISO 9001-2008 certified Company. Our quality organization is capable of taking all necessary steps required to satisfy our customers and earn their trust. We achieve this by placing our customers at the heart of our company's concerns.

Our quality approach involves all aspects of our company, starting with the mastering of our activities to the efficiency of our processes. It requires significant human and financial resources, and it involves all staff members at all levels. In fact, our quality management is a team project shared by all employees.

ATMI products are designed, developed, and manufactured in our French factory with European components only. Our manufacturing is 100% made in France, unlike other manufacturers who have relocated their production in developing countries in order to decrease their production costs. However, by doing this, they compromise their products' technical specifications and quality, and also the environment sustainability.
Download our ISO 9001-2008 Certificate Nº200406986 issued by Moody International:
Others certificates
ATMI's quality approach has been also recognized by the following Certifications and Accreditations:
ATEX (EXplosive ATmospheres): Potentially hazardous gas and dust areas.
ACS (Sanitary Conformity Certificate): Installations in drinking water meant for human consumption.
RoHS (Reduction of Hazardous Substances): No mercury, lead, asbestos, etc, in our products.
REACH (Registration, Evaluation, and Authorization of Chemicals): Human health and environmental protection against chemical products.
CE (European Conformity): Goods and products in compliance with European technical, safety, health, and environment standards.
Internal Actions
Our quality approach is a very appreciated tool that contributes to the growth of the company, enabling us to improve on a daily basis. We do our best to:
Reduce production failures
Reduce non-compliant products
Optimize process controlling
Improve working methods
Establish common working procedures
Optimize production and management methods
Guide the company towards a common goal for our know-how sustainability
Create a continuous improvement dynamics
Motivate our staff around a business plan Improve our overall performance
Support the company's growth
External Actions
Improve the quality of our products and services
Be proactive to customer's suggestions
Identify and anticipate our customers' needs
Improve customer satisfaction
Retain our existing customers
Find new customers and markets
Develop and enhance our brand image
Get external recognitions through our Certifications