ATMI
2, avenue des Bosquets
Z.A. de l'Observatoire
78180 Montigny le Bretonneux
FRANCE

: +33(0)1 6137 3560
: +33(0)1 6137 3569
: sales@atmi.fr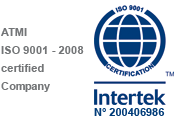 Small diameter float level switches
TUBA RANGE
FLOAT SWITCHES FOR NARROW-ACCESS TANKS AND CISTERNS
The TUBA is a mechanical float level switch of small diameter. It's tubular shape has been designed to fit tanks and cisterns having restricted access or narrow openings. As the liquid level reaches the float, the mechanical switch inside will tilt, thus closing or opening a circuit connected to an electrical panel.
FOR NARROW-ACCESS

The TUBA mechanical float level switches can be installed in 3 different ways : fixed to a cane, vertically suspended on the cable with external ballasts, or horizontally mounted on the tank sides with a gland. See picture on the left.

Several types of ballasts and cable hangers are available in option. For more information, see our Accessories section

LEVEL SENSORS

FOR DIFFERENT LIQUIDS
.